Costa Calida Welcome Packs
We can arrange for special food/drink packs to be delivered to the property prior to the guest's arrival on the Costa Calida.
At The House Maids we have put together a welcome pack that is made up of the most popular grocery items.
You may find this service useful if you are arriving late at night or on a Sunday, when shopping may be difficult.
If you have a requirement for one of these packs, or want something different, you can contact us and let us know at least 24 hours before your arrival (48 hours if you arrive on a Sunday).
The welcome pack consists of: Milk, coffee, tea, orange juice, sugar, bread, butter/margarine, eggs, bacon, croissants, wine, beer, cereal, cheese, ham and water.

The cost is 20€.
This is an example of our 20€ standard welcome pack which will be delivered before your arrival.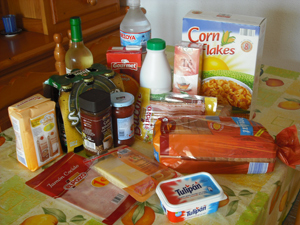 We can also arrange for your groceries to be delivered to your door, whatever the weather is.
The cost for this service is 7€, plus your shopping.