Laundry Hire Services
The Laundry Hire Service provided by The House Maids is the perfect solution for holiday home owners who rent our their properties. This solution will save you time and money.
Ever wondered what to do with the dirty laundry after holiday renters have been?
The House Maids will deliver the laundry and pick it up at the end of the rental period.
You never need to buy any laundry.
You will never need to replace laundry.
You will never need to wash and iron any laundry.
Laundry hire is 6.00 Euros per person
This includes everything you require when renting out your property. This will save wear and tear of your own laundry.
Whats included:
All bedding is included
Top and bottom sheets
Pillow cases
Quilt covers in winter
Bath towels
Hand towels
Pool towels
Bath mats
Tea towels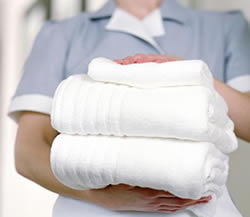 For the best and most professional laundry hire service in the Costa Calida area contact The House Maids.